The SoCoder Advent of Creativity has asked for people to create things over the course of Advent.
I've decided to make a website which then further creates arty little splodges!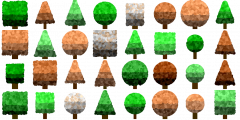 Starting with
Snowflakes
as well as
Bushy Trees
and
Spiky Grass
, the site seems to be functioning well enough.
The site is 100% Javascript based, and works by quickly downloading the javascript of the generator you've selected, and then running it in the background to make a batch of Procedurally Generated sprites or other arty doodles.
The end results aren't meant to be perfect, but if you're in need of some inspiration for a game, they might help.
Views 0, Upvotes 0
Jnksg Blog