I'm in too deep.
I can't stop!
And yet I also didn't plan ahead far enough, and will be spending most of this morning removing a bunch of stuff, and redoing it all.
Gah!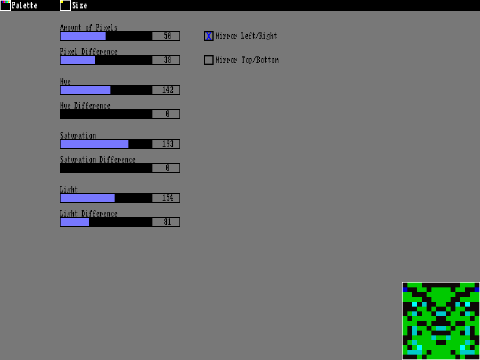 Tuesday's little sprite buildey bobby will be all nice and super, and with any luck, should build some nice sprites and tiles and things like that.
I'll pop in some nice presets for making tiles, floors, walls, baddies and whatever.
Assuming I can get it all working in time!
It's getting there, but I'll first need to redo most of those sliders/checkboxes, because having attempted to use them, I've realised I probably should've done them in a completely different way.
Aw well, lesson learned.
Captain Hindsight will be shouting at me for this one.
Currently the sprites have no shape forming, so the sprawling mass of purely random pixels on the bottom right looks pretty damn ugly. I'll be working on that today, along with the color sliders which aren't quite the way they're meant to be. .. Needs more base, and planning ahead!
I did get the color palettes working, though, and it can render sprites in "Any colour/No Palette" or one of the included retro system's colour palettes! The sprite on this screenshot is rendered in ZX Spectrum colours.
Adding a palette is as simple as making a 16x16 pixel image of color (which you can see loaded on the top left of the screen) and popping it into the palette folder.
I haven't, though, accounted for quirky retro display rules, so all are pixel based, not block/otherwise based.. That probably doesn't mean a lot to some of the folk who visit here, though, so! Whatever!!
Views 0, Upvotes 0
Daily Blog