I'm ashamed of myself!
This site's meant to be a game a week. I'm meant to be challenging myself..
True... Making Alien Deathmatch 2 is a challenge all of it's own, but I was wanting my own special little site with it's own special little gimmick, and it'll all look a little bit worse for wear if I leave a second week without a new game...
So, let's have a rummage through Jay's directory of leftover bits, and see if we can come up with something special..
How about a brand new, previously unreleased edition of Stringy Things DS!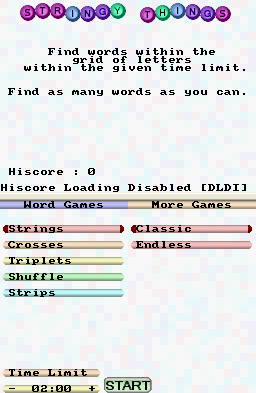 -=-=-
I say Brand New, but this was actually compiled months ago. The file's date says July, but I certainly don't remember tweaking it that recently!!
This version has the nice new frontend to it, and a version of "Extract" which I actually ended up copying for Platdude's Retro Collection, thus dating this pre-Retro Collection... Yowsers!
I can safely say that it's pretty stable, though, since my Mum's been playing it on her DS the whole time!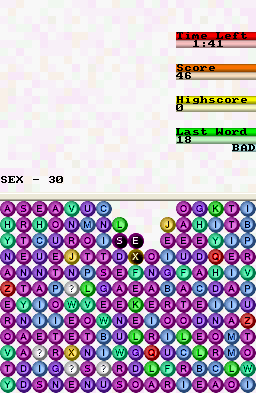 I know that some folks are scared of Word games, but I challenge everyone to at least give this a go. It's a fun set of games, and if you do like it, you'll probably end up playing it for quite a while.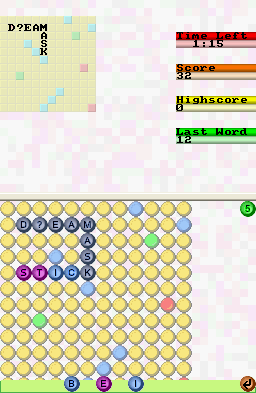 The download only contains DLDI ready versions. I haven't bothered to upload none-DLDI editions. Let's face it.. If you're not DLDI ready by this point, you really need to buy a new flashcart!
So, go and
Download Stringy Things 2'ish here
, and then play it for the next few weeks! It oughta keep you busy whilst I finish off Alien Deathmatch 2!
(I say 2'ish.. What I mean is that I wanted it to be a bit bigger.. But it isn't.! Maybe next time!)
Views 103, Upvotes 4
Release