Background progress is coming along nicely.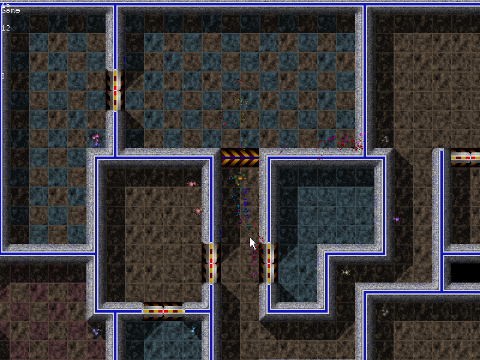 I've currently got the level renderer to come up with a nice selection of coloured floors from 3 prerendered ones.. It can do plain, and chequered, thus giving us 6 possibilities of floors. Every room that's separated gets a random floor. Nice and simple.
(They have to be prerendered colours because Blitz is a bit slow at basic 2D stuff!! bah, humbug..)
It shouldn't be creating rooms with alike colours right next to each other, so I'm currently working on fixing that.. But even if I can't it's not exactly a biggy, right!?!
Good!
Meanwhile it's helping to make things look a bit more interesting and somewhat different from the previous version.
You'll probably also noticed that I finally got around to making the doors look a little better, too!.. Although I have just noticed that the vertical doors are highlighted the wrong way around.. d'oh! (*fixed*)
Most of the sounds are back in place, but gameplay elements aren't quite up and running yet.
The weapons don't upgrade without you manually hitting cursor keys to do it, the baddies won't appear without you hitting 1-6 to trigger a wave of aliens, and worst of all, there's not even a score yet, let alone multipliers!!!
That'll come later.
For now, I need to have a play with the editor!
Views 35, Upvotes 8
Daily Blog