Wednesday Workshop #162
asked for folk to create a game with a big-ass timer.
My entry was simple.
Open a vault, Grab the loot, Run for your life, Drive to escape, have a gunfight, sorted!
All with a timer in the corner, and all played with the mouse.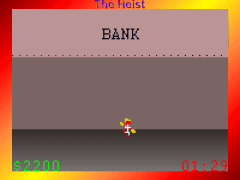 The game's mostly all Left clicks, but the short driving scene requires you to right click occasionally, too.
Download and play
The Heist
.
Views 68, Upvotes 8
Release