I can't believe I've still not finished this yet!
Seems that, no matter how much work I do on this game, it's still not quite done.
This week, I finally decided on the complete "Not Chance" and "Not Community Chest" card selection. 12 of each, ready and waiting in the engine.
Next, I added all those lovely patents.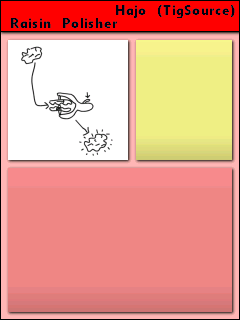 They're all in there, each one displaying on a nice little card, along with the creator's name.
I haven't yet gotten around to actually printing the bulk of the text onto the cards, though. I need to write a word-wrap method, before I can manage that! I could also do with a slightly smaller font, too, for all the text that'll be appearing on the card.
Still, that's a bigger start than I've previously managed, and things are going smoothly. (finally!)
I'm still working on the phone, so the cards are small, and the board's a little shrunken, but all in all the game's up and running.
Next I need to add money management, card management and things like that..
Now, here's the main issue.
No AGameAWeek.
I figured I'd try to focus on getting this done, since it's annoyingly been about a month since I started it.
Due to that, I've not done AGameAWeek this week.
If I can't quickly think of something, and get it built tomorrow, we'll have to call it a skipped week.
Dangit..
I might dig out an oldie, and post that instead

... Back to work!
Views 18, Upvotes 0
Daily Blog , Patent Wars