So, I spent a while, last night, playing with the graphics.
Now that the game's out there, and since so many people are complaining about it's lack of fancyness, I decided to make nice with the special weapons..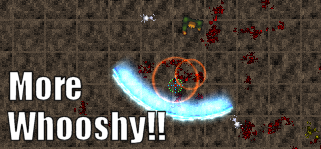 The game's now officially 75% More Whooshy, with the superweapons looking much more fancypants, and the dead baddies giving off a little red "poof!" as they go.
I've also switched the ingame text from Regular Font to Bitmap Font, at the request of someone who's NVidia card doesn't like regular text. The bitmap font is being rendered as 3D sprites.. Usually, this is ok, but occasionally, your system might not be able to keep up.
Sometimes Font is good, sometimes Bitmap's good.
You'll have to make your own mind up as to which is best for your system, so I left a switch on the main menu for it.
Um, I think that's all I've changed, but you might notice some other differences along the way!
Enjoy!
Alien Deathmatch 2 (Release 2)
Just plonk it over the top of your last one.. (And use Alien Deathmatch 2.exe .. I decided not to bother number/labelling each release, since it'd only annoy folk who've taken the time to add it to their start menu/make Bat files!!)
Note : This is the same link, and although it's newer+nicer, it's purely cosmetic changes, so no need to go telling everyone, since nothing major's happened gameplay-wise.
Views 38, Upvotes 4
Daily Blog