A quick redux of an old tool.
-=-=-
Yesterday I was going to say to someone "I made a neat little Titler for things like that", and then opened up Titler and went "Wow.. That's not really quick and neat, is it..?" as the cascade of options flew at me!
Well, guess I have to do that, then..
So I set about hacking away the options, and limiting the tool to a simple box with a couple of buttons.
The end result is exactly what you need from a quick titler tool.
Stick text into box, click Generate, job done.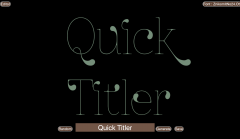 Really, what more do you need?
.. And if you DO need more, click on over to the editor, instead.
Job done!
You can
Title things Quickly
in your browser.