I'm not ignoring it!!!
I woke up late, today, and time seemed to slip away fairly rapidly.. I spent about an hour browsing online shops, buying a cheap copy of Sonic Unleashed for only £20 (Gamestation) and an el'cheapo Digital Photoframe (£30 Aria.co.uk), and then surprisingly it was time to settle down, eat, and then go to work.
Where my time went, I don't know!!
Still, I did post the demo yesterday, so that's ok.
Meanwhile I think I've figured out what my NEXT larger project will be.
I sat for about 10 mins today, and drew up a nice sprite for a remake of the Amstrad/Commodore/Spectrum classic "Turbo the Tortoise"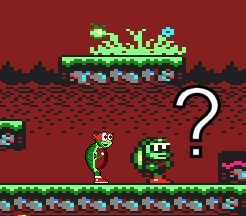 (New on the left, original on the right, ? to symbolise "I should probably redo this!!")
I'm not 100% sure if that'll be the game that I do next, but if it is, Turbo would probably be a wee bit chunkier to fit his older sprite better. ...
Well, it's an idea, anyway.
Either that or I do JNKPlat 09, but it feels a bit too soon to be doing that.
?
Views 11, Upvotes 0
Daily Blog